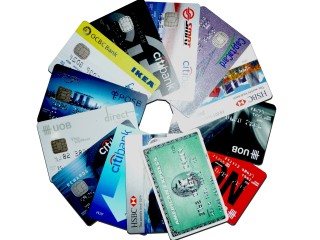 Being in business means you need to get paid, right? Well, at least it does if you want to stay in business. Accepting credit/debit cards is pretty much a must. Fortunately, there are a lot of great options out there from which you can choose. We'll take a closer look at the three in the title -- Square, PayPal, and Amazon -- as well as a quick look at several other options that might appeal to you.
The card readers are all fairly similar. A few have additional services or additional prices which might make you want or not want them. For the most part, they're all going to:
Take about 3 percent of the total charged fee;
Take slightly more if you type in the number in instead of swiping the card;
Work on phones and tablets from Apple or those that run the Android operating system (eg, Samsung's Galaxy series of phones and tablets.)
Square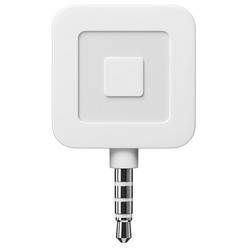 Probably the most prevalent card reader out there, you will see these everywhere from conferences to swap meets and hair salons and pizzerias. It seems to be as trusted a service as PayPal became for online transactions.
A few details:
Available at http://www.SquareUp.com.
Fees: 2.75% for swiped, 3.5% + $0.15 per transaction for manually entered cards
Invoicing: Yes, you can send invoices
Online store: An online store is available through Square, but the service does not currently appear to work with most e-commerce plugins such as WooCommerce and WP eCommerce.
My thoughts: People feel confident when they see the Square plugged into your phone or tablet. Square is the leader in this arena and you can't go wrong by choosing them. The design is good (see below) and the software is easy to use. the online store is a nice option, too.
PayPal Here
As a long-tim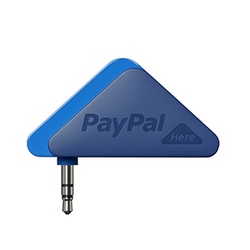 e player in online payments, PayPal is a trusted name. However, since the white square from Square is so prevalent, many people ask "What's that?" (in an untrustting tone) when they see the blue triangle. I know because I have one. As soon as I say, "It's PayPal's credit card reader," everyone is fine with it. But I do have to explain it a lot.
A few details:
Available at http://www.PayPal.com/Here.
Fees: 2.7% for swiped, 3.5% + $0.15 per transaction for manually entered cards
Invoicing: Yes, you can send invoices.
Online store: PayPal does not offer a shopping cart of its own, but it is available through nearly every shopping cart program and plugin available today.
My thoughts: I have been a PayPal user since my days of selling stuff on eBay (early 2000s.) As with Square, you can't go wrong. However, I think there's a flaw in the design of the reader. Since the plug that goes into the headphone jack is off-center, the reader can swivel as you attempt to swipe the card, thereby making the scan fail because the card shifts in the reader. They compensate for this with a small lock that can be slid into place, but that is a separate action that you must consciously make and the lock sticks on mine, so it requires both hands to lock it. However, this is obviously a minor annoyance since I continue to use it.
Amazon Local Register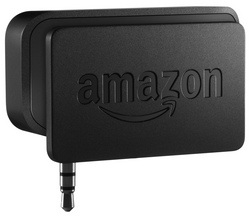 New to the card reader game, but probably the biggest name in shopping in the world, Amazon.com launched Amazon Local Register in 2014. My guess is that people will see the black rectangle, ask what it is, and, as with PayPal here, smile and hand you their card as soon as they figure out it's Amazon. A benefit for Amazon is it's pricing structure (see below.)
Available at http://LocalRegister.Amazon.com.
Fees: 2.5% for swiped, 2.75% for manually entered cards (no additional per transaction fee)
Invoicing: Amazon Local Register does not appear to allow you to send invoices. I can't be certain because it's the only one of the three that I haven't used. The website does not specifically say that it does, however, and both Square and PayPal do denote this option.
Online store: Like PayPal, Amazon works with most e-commerce plugins through its Amazon payments service. And, of course, you can always contract with Amazon to be your fulfillment center.
My thoughts: While also offset, like PayPal, they seem to have their locking device built into the unit so that it's not an additional process to set. The only drawback is the invoicing. I send lots of invoices and love that option with PayPal. I also receive invoices from people using Square and I like that, too. I think Amazon will be a good service provider, but I wouldn't consider the switch unless the start to allow invoicing.
A Few Others to Consider
Etsy Reader - You have to have an Etsy shop to use it. 2.75% for swiped transactions, 3% + $0.25 per transaction for manually entered cards.
Intuit GoPayment - From the maker of Quickbooks, GoPayment comes with a monthly fee but lower percentages. For a business that use Quickbooks and have lots of transactions or high dollar transactions -- my plumber, for example -- this might work well.
Spark Pay - Owned by Capital One, it has a monthly fee and lower fee percentages. However, there is a monthly fee-free option but that has slightly higher percentages than Square, PayPal, or Amazon.
The Quick Takeaway
As a small business owner, the fees are pretty important to me. Even though it's only a few cents, at my margins a few cents can add up. I'm a fan of both PayPal and Square. I mostly use PayPal for my business and I have Square with a non-profit group for membership fees and such. Both work great. I've been tempted to switch my business to Square but there's no real gain for me so I don't. If it weren't for my need to send invoices, I might go with Amazon.
If you're picking one for you and your business, I'd say you would be happy with any of the three. Bigger businesses might go for Spark Pay or GoPayment and Etsy sellers might prefer the Etsy Reader.