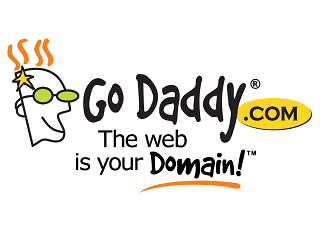 If you've used the internet or watched TV in the last decade, you've heard of GoDaddy. From sexually suggestive female spokesmodels to Jean-Claude Van Damme (maybe sexually suggestive to some people?), the company knows how to get attention in the media. But they stand behind their ads with excellent service. That's what sold me.
Pros
There are plenty of places to register a domain on the internet. Plenty of cheap places. GoDaddy differentiates with:
Excellent customer service: they call you on the phone ... not an email ... to ask if you were satisfied with the transaction and to ask if they can help you with anything else.

They called one time and got me a refund on a service I'd signed up for and then forgotten to use.  I can't say they do that every time, but they gave me back $9 and I liked that.

Broad range of services: They're not just a domain registrar, they're a web host (WordPress?  They've got you covered!), a drag-and-drop website designer, an e-commerce shopping cart, email server (and email marketing), online storage provider, and much more.
Easy to use: Their interface is simple and straightforward. But if you have trouble there are tutorials on the site as well as live support.
Cons
While their drag-and-drop website editor is simple to use (I've seen people with no web building experience have a website online within minutes), it is lacking in the area of building an aesthetically pleasing website. The websites I've seen people produce in a few minutes (and those I've seen them make when they've spent hours) are either plain or ugly.
They are not the cheapest at anything they do.  But then you often get what you pay for.
Bottom Line
I don't use GoDaddy for all my website needs. I use them primarily as a registrar and occasionally as an email server and web hosting provider.  I've never had any problems with them - which is saying something because it seems like sooner or later you have problems every company you work with for a long time.
I frequently suggest GoDaddy to friends and several times have re-suggested them after friends went elsewhere for "better prices" but came away with crappy service.
Disclaimer
I am a member of GoDaddy's affiliate program.  If you click their ads on my site and buy something from them, I'll get a commission from it. However, the only reason I decided to be an affiliate is because I've been suggesting that people use GoDaddy over 10 years without being in their affiliate program.